This page is for the Emoticons used after The 2012 Update. For information about Emoticons from the Old LEGO Message Boards, please look here. For information about this wiki's emoticons, please look here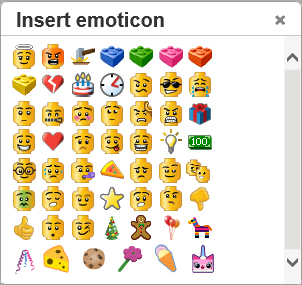 Emoticons (also known as Emotes) are small icons you can add to your posts. MB Emoticons are likely a replacement for the small smileys used at other sites.
You can use all the emoticons by clicking on an emoticon button on the toolbar above the post box, then clicking the emoticon that you wish to use. This inserts the emoticon into the post, bypassing the text stage. However if one was to type an emoticon normally then it would only register after the author clicks the 'Post' button (and, of course, after approval by the moderators).
The joking emoticon (

), commonly known as the Tongue Smiley, is the most widely used emoticon on the LEGO Message Boards.  
Current Emoticons
Holiday Emoticons
Party Emoticons
Trivia