This page is an archive of the old LEGO Message Boards. Feel free to correct mistakes and add information, but please do not update the post count, image, or rank.
---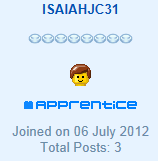 ISAIAHJC31 is a user who joined the LEGO Message Boards on July 6, 2012. He had the rank Apprentice, 3 posts, and 0 studs. He was well known for creating the popular and controversial topic "I LIKE FRODO" in the Lord of the Rings Forum. This topic sparked many other 'I LIKE' topics, such as "I LIKE PIPPIN," "I LIKE ACIDICUS," "I LIKE JAY," and many more. The I LIKE FRODO topic was very popular, and was even considered a LMB meme by some users.
Signature
He did not use a signature.