This page is an archive of the old LEGO Message Boards. Feel free to correct mistakes and add information, but please do not update the post count, image, or rank.
---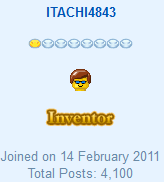 ITACHI4843 who joined the LEGO Message Boards joined on February 14, 2011. He had the rank Inventor, 4,227 posts, and 1 stud. He was writing four stories, three in the Ninjago Stories Forum called "In The Dark - A Story by ITACHI4843," "Nya - A Series of Extremely Fortunate Events," and a multi-writer story that he, Batgirl78, and brandon_am were working on. There was one in the City Forum called "Life in the Neighborhood - A Comedy by Itachi4843." He says his inspiration was his love for LEGO Duplo and Friends.
He retired twice. He quit roleplay due to spam and duplicate topics, and started to put more time into his stories.
Signature
His signature was:
-Ϩ●ϻᴇ RAnDOM ПIᴎЈД
◎нίgн qυαℓίту ρσѕтєя◎º°'¨
Trivia
More Information
ITACHI4843 does not have a current article.
Message Boards profile:
ITACHI4843