Samurai Warrior
---
Image:

---
Requirements:
1007 posts
13411 minutes online
300 likes received
92 likes given
Samurai Warrior is the eighth rank on the LEGO Message Boards. The exact requirements for this rank are currently unknown. It is based on the Samurai Warrior minifigure from the LEGO Collectible Minifigures theme's third series. Brickgirl99x was the first user to reach this rank. Mrcqm is currently the most liked Samurai Warrior, with over 6,415 likes received.
It was revealed by WhiteAlligator at the end of the costume party to be a rank on the new, updated version of the LEGO Message Boards.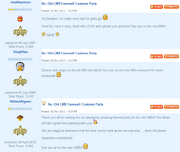 See also
Community content is available under
CC-BY-SA
unless otherwise noted.